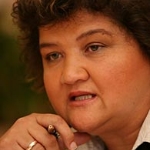 Lynne Brown is the Minister of Public Enterprises with a political authority (referred to officially as the Shareholder Representative) of six State-Owned Companies. These are: Transnet (rail, freight, ports and engineering), Eskom (electricity utility), Denel (advanced manufacturing and arms industry), SA Express (one of two national airlines), Alexkor (a diamond miner) and the South African Forestry Company Limited (timber and forestry).

During a 20-year stint in the Western Cape Provincial Legislature, she served as Premier of the Western Cape Province, Speaker of the Western Cape Legislature and also as Minister for Finance, Economic Development and Tourism. She is a member of the African National Congress's National Executive Committee, the South African ruling party's highest decision-making body.

A teacher by profession, Lynne was active in the struggle against apartheid, with a particular emphasis on women's issues.